DevOps as a Service
At ITYUG we offer a full range of DevOps Development and Consultation Services. We have a team of Certified & Experienced experts to automate process, migrate complex applications, and manage daunting infrastructure challenges with ease. Our DevOps Services Include.
Request for Proposal

DevOps Assessment & Audit
If you already have few DevOps practises in place and need adept experts to assess your DevOps practices and find out where you stand from industry best practises we can help you, audit your existing infrastructure, recommend process and tools to simply your deployment

DevOps implementation from scratch - road mapping and strategy design
We can help to implement DevOps from scratch and build a strategy to ensure continuous deployment & delivery, our team offers effective support for automation, to protect organizations from deployment risks and increases their productivity & revenue

Continuous Deployment
With our team's expertise, we offer support for release management, continuous deployment, change management, and more, which helps organizations get rapid & hassle-free deployment

Continuous Integration & Delivery
Leverage the advantages of continuous integration & delivery, and effortlessly minimize integration time, improve code quality, reduce project risks, and more. Also, get faster time-to-market & cost-effective services

Continuous Monitoring
Monitoring plays a great role in company security intelligence regardless of its size. Log management and monitoring helps in preventing incidents happen and getting them worse, Post incident analysis and preventing from happening again

Continuous Testing
Continuous testing is a process of testing in every stage of CI/CD pipeline. Right from code commit, to build, to deployment and everything that happens in between. Our team of testers can help in automating the test cases in each phase which helps in shortening and amplifying the feedback loop.

DevOps Tools
Our Team of highly skilful and certified professions has hands on using various DevOps tools such as Elastic Search, Kibana, Docker, Terraform, Ansible, Jenkins, Docker, Selenium, Vault, Nagios, Jira, Git, SVN.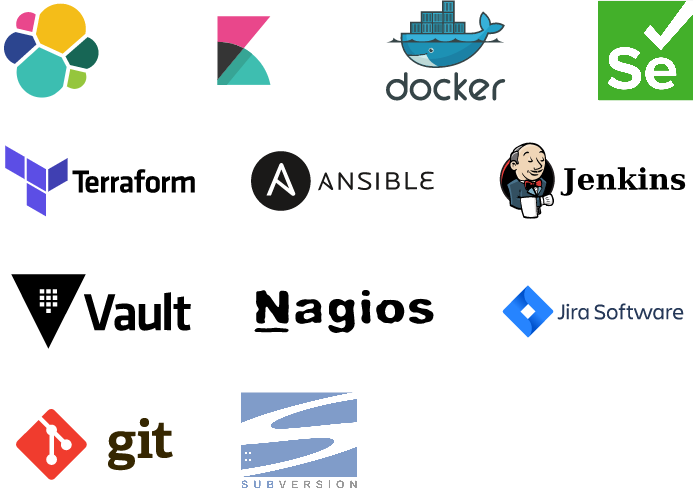 Tailor-made IT solutions for your business needs. Get in touch, and we can start tailoring to your needs